There are two campgrounds inside the park Flamingo and Long Pine Key.
Long Pine Key Campground
Located 7 miles / 11 km from the main entrance, just off the main road.
108 drive up sites for tents and RVs, including one group site.
Close by: Fishing pond, hiking trails, amphitheater.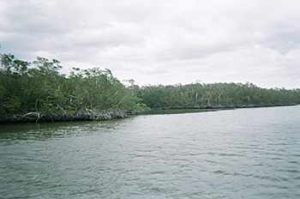 Flamingo Campground
Located at the end of the main park road in Flamingo.
234 drive in sites, including 55 with a view of the water, four group sites, 64 walk-up sites (20 on the water's edge).
Close by: observation tower at Eco Pond, hiking trails,canoe trails and fishing.
Camping is offered year-round at Long Pine Key &Flamingo.Reservations are strongly recommended at Long Pine Key and Flamingo during peak season from November 23 to April 18. Call the reservation agent at (800) 365-2267 up to five months in advance. Both campgrounds are available on a first-come, first-served basis the rest of the year. Frontcountry fees during peak season are $14 for walk-in sites, $14 for RV sites, and $28 for group sites. Park campgrounds at Long Pine Key &Flamingo have drinking water, picnic tables, grills, tent and trailer pads, and rest rooms. Flamingo has cold-water showers and Flamingo Marina offers hot showers for $3. RVs are welcome, but there are no hook-ups. Campground stays are limited to 14 days during the peak season. Checkout time is 11 A.M.
Back Country Camping in the Everglades
Everglades National Park has three kinds of backcountry campsites: Chickees, Ground Sites, and Beach Sites.
Backcountry permits are: $10 (1-6 people) $20 (7-12 people) and $30 (more than 13 people). 
Chickees are located along interior rivers and bays where no dry land exists. They are elevated 10 foot x 12 foot / 3 m x 3.7 m wooden platforms with roofs, usually constructed on open water, well away from mangrove trees. A narrow walkway leads to a self-contained toilet. You'll need a free-standing tent, since stakes or nails are not allowed.
Ground sites are mounds of earth a few feet higher than the surrounding mangroves, located along interior bays and rivers. 
Beach sites are located on coastal shell beaches. Many beach sites have no toilets.